Cold, harsh winds and a long line greeted us in front of the Messe Wien D hall as we arrived to this year's Vienna Comic Con: the organizers, hoping to avoid last year's pre-hall crowds, decided to make visitors – who weren't really in a hurry to grab their badges on Day Zero – wait outside instead. As I entered the main hall with my cosplaying companions (
Kaira Cosplay
,
Ponylord Gaming
), we were welcomed by the friendly atmosphere of the place; it felt almost like we had stepped into a dimension removed from time, left wholly unchanged after our year of absence. There were changes, though. The convention seemed to have placed a larger focus on gaming this time around, giving space to VR, retro gaming, and eSports tournaments alike; the attention of younger visitors, lining up between metallic hedges in front of the stage, was nonetheless mostly captured by the local YouTube celebrities.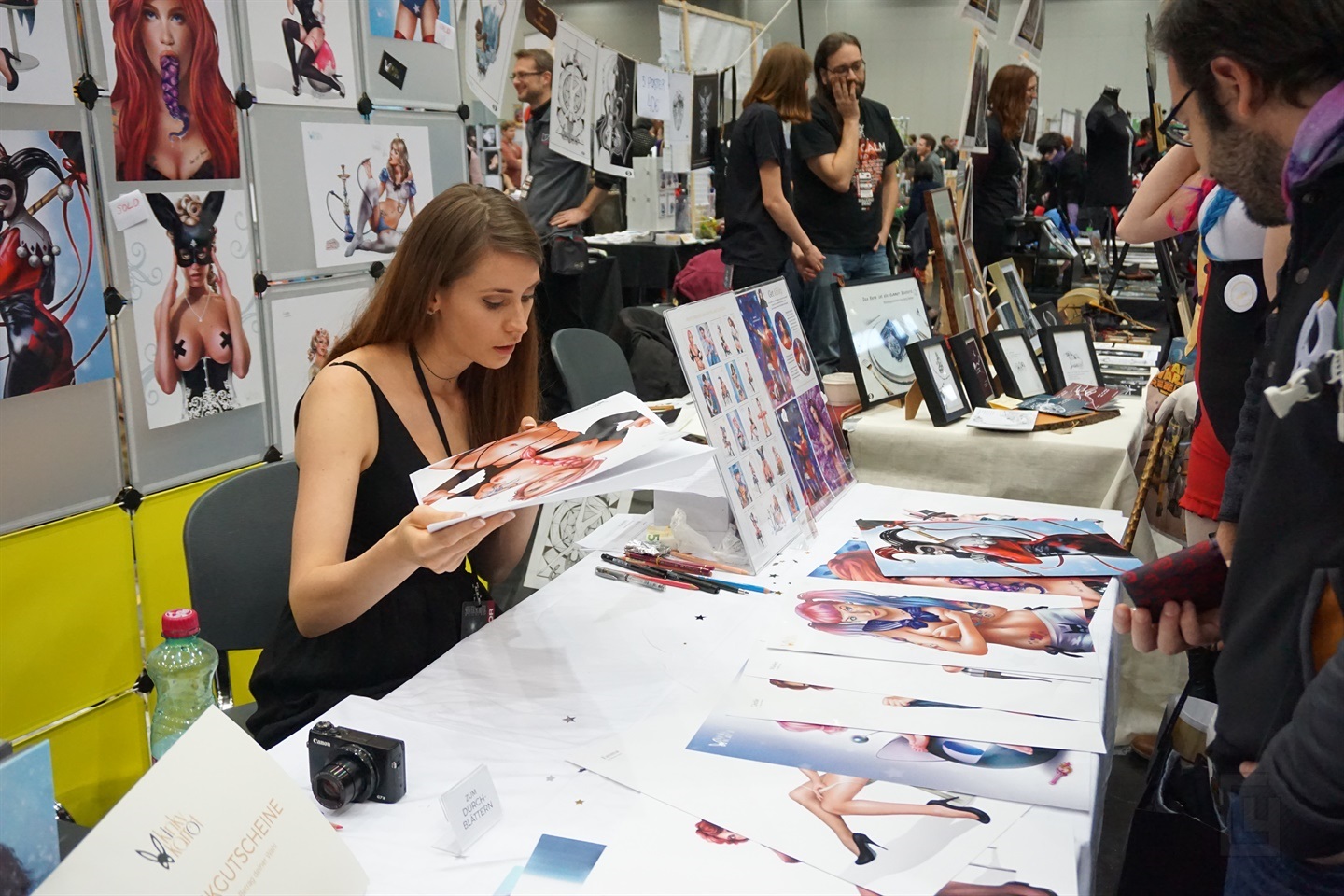 Out of the celebrity guests present, John Rhys-Davies (Gimli from The Lord of the Rings) gave one highly entertaining theater performance of an interview, making use of his talents as a performer to share his various thoughts – on filmmaking, society, and culture – with the audience. He gleefully gave various anecdotes about the filming of the LotR trilogy and the "horrible" things he experienced: if we were to see him again in a role requiring a full-face mask, it would be the result of an exemplary honor, or the first signs of senility.
The various artists present in the convention's Artist Alley were more than happy to answer all sorts of questions about their craft. Hand-made and digital art, paintings, engravings, comic books, jewelry and other ornaments, as well as a whole armada of cosplay accessories were lined up on a number of stands, along with tired – but happy – artists ready to sign their works for fans.
From the visiting cosplay teams, the 501st Legion was the most prominent – they began the first day of the convention with a parade of their own, and were likely responsible for the somewhat overwhelming Jedi presence at the show.
The cosplay contest once again offered a solid line-up of participants, although the event wasn't quite the same without the two massive Transformers cosplayers leading the charge as they did last year. After some vacillation from the judges, we learned that the Best in Show award went to Eye of Sauron Designs cosplaying as Batman. And although this was evident to me, it must also be noted that all the other cosplay creations were similarly fantastic.
Bendershield
,
Dracke's Incredible Armoury
,
Haylin
,
Kanyan
,
Pani
,
Shayola
,
Shizca
all came out with cosplay works of high quality, sure to wow the average onlooker.
Michiyo Nakajima
also commanded my utmost respect for displaying the willpower to don a Toothless costume, braving the severe lack of oxygen this feat no doubt entailed.
The magic of cosplay
I know what you're thinking Max, and couldn't agree more. But let's just leave the past where it belongs.
A portion of the visitors – at times, even 6-7-year-old children – wore full or partial costumes of some kind, giving the entire event a wondrous ensemble of varying colors. Almost every cosplayer, even ones that didn't participate in the contest, took part in the Cosplay Dance, and as I briefly scanned the faces of those around me, I had difficulty deciding who was having more fun with the whole deal – the cosplayers or the audience.
The crowd of visitors subsided a bit on Sunday, though moving around still remained a trying task in the company of cosplayers, especially a certain Pennywise, who happened to be a fan-favorite among everyone – well, everyone that didn't suffer from a severe case of clown-phobia.
Following Joker, I sat down next to Max with the intention of getting a massage – as Hana was working away on my cramped shoulders, I began to wonder if I could use Max's special ability instead to heal my weary bones. At times, it is better to simply let things take their own course, I told myself, then got back up on my feet – refreshed and free from pain – to move on and absorb more of the event.
We met up with
Deagal
– who, by the way, had no problem imitating Jack Sparrow's peculiar verbal style – away from his ship; as thanks for being escorted back to his precarious boat, he promptly dubbed me the first mate of the poster serving as his vessel. On a ship this clean, it'd be worth serving even as quartermaster, I thought to myself. Either way, the captain quickly revealed his plans of acquiring copious amounts of rum, women and fame – aye, aye, cap'n, we'll follow ye to the very end o' the nine hells!
Afterwards, we spent some time goofing around the Badass Cosplayer booth along with Batman and our two supervillains. Being the highlight of the convention, everyone tried their best to earn his favor, after all; even taking a few steps with him was an arduous challenge, as fans asking for pictures kept showing up one after another. At one point, I suddenly disappeared in the company of three uniformed persons, who, as it later turned out, weren't cosplayers at all – a shame, really, as their clothes and accessories were quite life-like indeed, right down to the word "POLIZEI" adorning them.
I spotted Eleven – who was easily let through by unsuspecting security personnel – near the weapon check stand and swiftly stopped her: just a picture, I told her, and I'd keep it too, as friends don't lie.
I used the following parting words at the convention, at the restaurant, and pretty much everywhere else, even if people didn't always understand it: goodbye Vienna and see you next year, when I'll be back to spend another weekend with you.
Part 1
Part 2
+1: Deadpool is having fun too