Welcome to GTOGG's October 2022 edition of Promising Indie Game Releases, where we highlight indie and non-mainstream titles that we believe deserve your attention – in other words, "look at all this potentially cool stuff you might've missed otherwise". That would've been too long for a title, though.
In any case, let's get right down to it.
SIGNALIS invites you to a dystopian world of dark corridors with flickering lights and unspeakable horrors – step into the role a technician Replika called Elster, who crash-lands on a distant planet and ends up having to venture into an abandoned facility in search of her lost partner. The game offers a traditional survival horror experience in the vein of Resident Evil and Silent Hill, presented with the visual flair of a classic sci-fi anime, creating a unique blend of styles that, in my opinion, makes SIGNALIS one of the most promising indie games of the year.
---
Visually inspired by the gorgeous vistas and architecture of ancient Greece and Rome, Asterigos will place you in the role of a young warrior named Hilda who ventures into the cursed city of Aphes in order to find her father. Following in the footsteps of various Soulslike titles, the project will offer oodles of exploration, meaningful choices and consequences during the story, tons of side quests to tackle and – of course – several bossfights to overcome.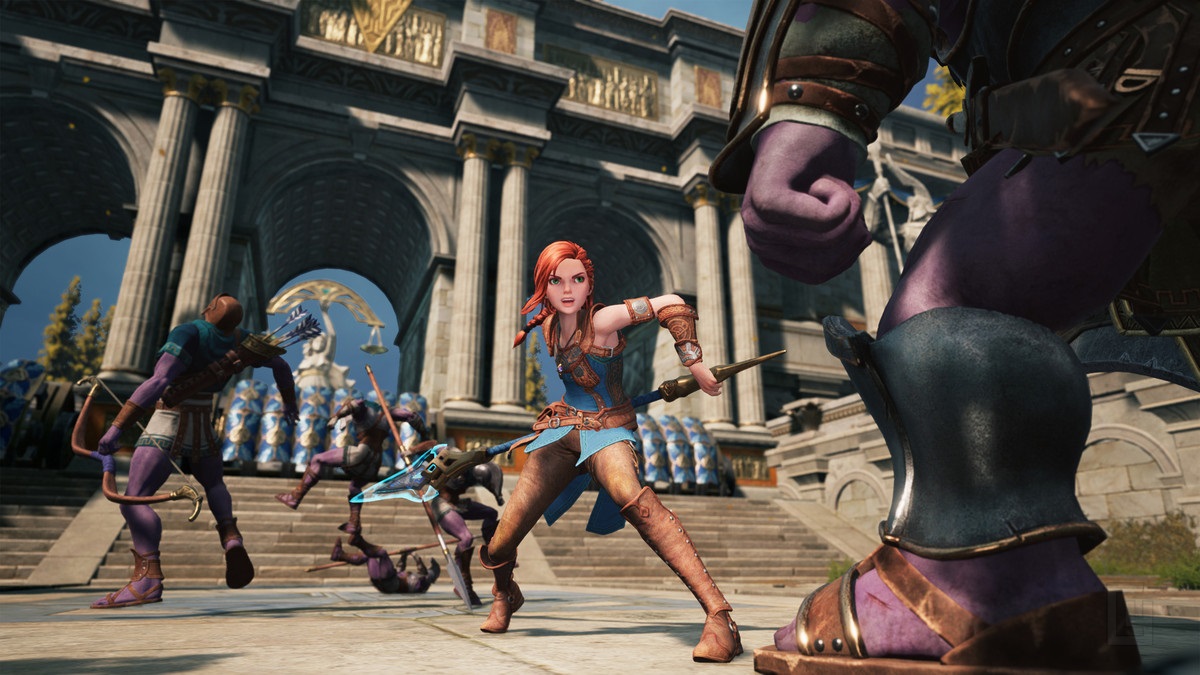 ---
9 Years of Shadows is a pixel art Soulslike action-RPG that tells the story of a world plunged into darkness, struck by a corruption that robbed people of joy, color and hope. It's up to a young warrior called Europa, as well as her faithful bear companion Apino, to venture into the depths of Talos Castle and stop the curse once and for all.
---
Have you ever wanted to become a potion seller? And have you ever asked yourself if your customers could handle your strongest potions? If so, Potionomics could be the game for you: step into the role of young Sylvia as she inherits a potion shop from her deceased uncle, brew up the best concoctions you can think of, and haggle your way to success, eventually becoming the most sought-after merchant in town.
---
Hell is Others is a game in which everyone is – quite literally – out for blood. Set in the dark, noir landscape of Century City, you take on the role of a lone man by the name of Adam Smithson, who lives up high in his apartment, but must occasionally travel down below and hunt the streets for blood in order to survive. Also, you own bloodthirsty plants that can be used to literally grow ammunition, and yes, that is a thing that happens in this game.
---
Inspired by the folklore of Sardinia, Italy, Saturnalia will feature multiple playable protagonists, each trying to piece together the secrets of a maze-like village whose labyrinthine streets shift and change every time you die. Using each character's unique skills and means of exploration, players will have to investigate a mysterious ritual, solve various puzzles and open shortcuts while only having matches to rely on as a light source.
---
Set in medieval times, The Plague Doctor of Wippra has you take on the seemingly impossible task of combating the plague as a humble physician. As doctor Oswald Keller, players will travel to the small German town of Wippra, where they must converse with the locals, solve a variety of puzzles and treat patients to the best of their abilities while dealing with the inevitable clash that occurs when science meets superstition.
---
And that's our list for now! Did you discover a new indie game to look forward to? Well, we hope you did. In any case, don't forget to check back in about a month for our next episode, where we'll be taking a look at the indie games of November 2022!