We've already reported on a number of exciting new announcements from this year's E3, but that was hardly the end of things – this time, we'll be discussing Square Enix, Nintendo and a bit of PC gaming, picking out the titles we are personally looking forward to the most.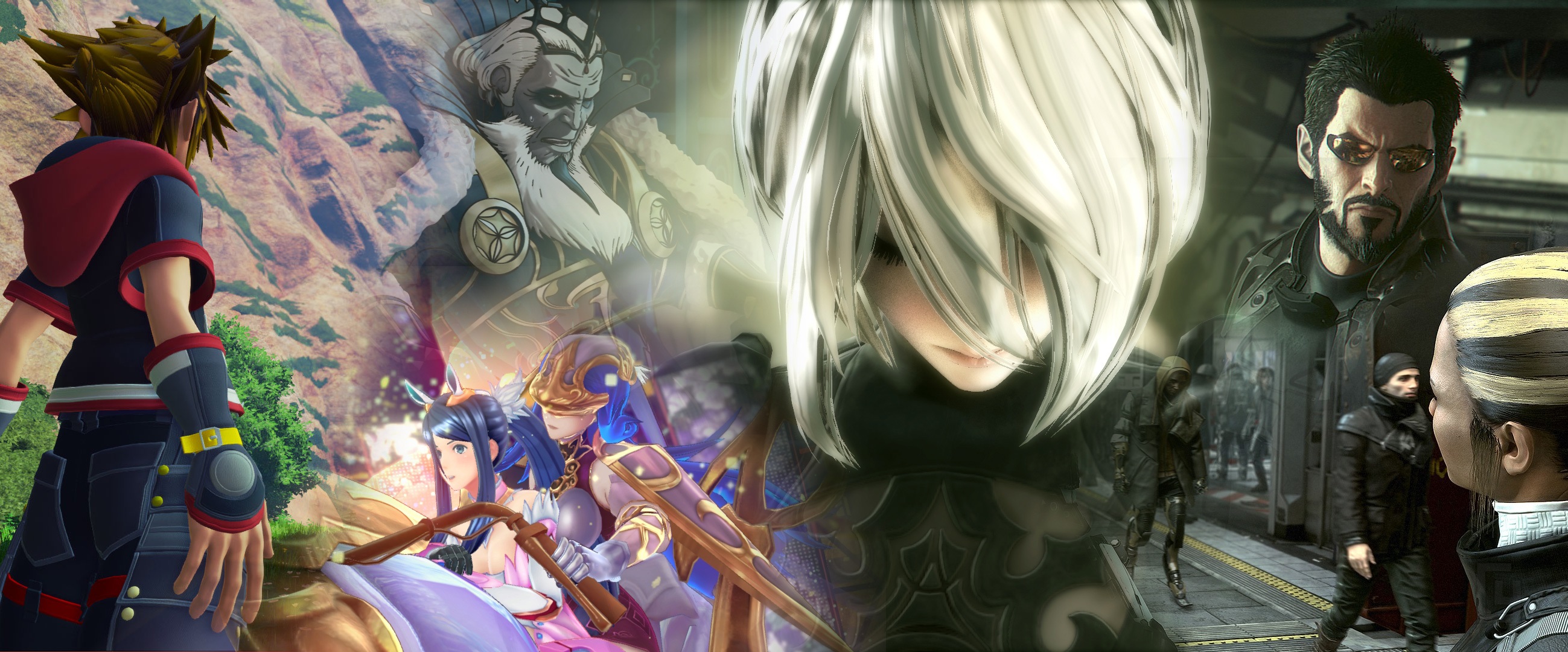 Hyrule Warriors, Triforce Heroes, Star Fox Zero
Let us first go over something you may have already heard of due to a recent leak: Hyrule Warriors, the Zelda-themed Dynasty Warriors-esque Wii U action game, is coming to 3DS early next year. The 3DS version includes all the DLC from the original and even adds two new characters: Tetra and the King of Hyrule from Wind Waker. And while we're at the topic of Zelda: the 3DS is getting a co-op Zelda titled called Triforce Heroes – the game is due out this fall and will feature 3-player co-op functionality. The Star Fox series is also back with Star Fox Zero on the Wii U – the game, scheduled to be released this holiday season, marks the return of the beloved spaceship shooter with a number of new features, including the ability to use the Wii U gamepad for a first-person cockpit view.
Shin Megami Tensei x Fire Emblem, Fire Emblem Fates
Both the colorful and over-the-top Shin Megami Tensei x Fire Emblem, as well as the upcoming 3DS tactical RPG, Fire Emblem Fates, received new trailers. As far as Fire Emblem Fates is concerned, we've also learned that the game will indeed be launching with two separate (black and white) editions, much like in Japan.
Xenoblade Chronicles X, Maiden of Black Water
And let's not forget about one of the most anticipated open world JRPGs for Wii U – Monolith Soft's Xenoblade Chronicles X received a definite a release date: the saga will make its way to North America on December 4, and to Europe sometime in the same month. Horror fans will also have a title to look forward to: the latest, Wii U installment in the Fatal Frame series (Project Zero in Europe) subtitled Maiden of Black Water is coming west (this has been announced previously) and will be launching in North America and Europe this fall.
Star Ocean: Integrity and Faithlessness
Square Enix ended up showing off a few minutes of gameplay from the previously announced Star Ocean: Integrity and Faithlessness, noting that the final game will be running at 60 frames per second. The game is expected to hit western shores sometime next year.
Deus Ex: Mankind Divided, Kingdom Hearts 3, Nier, Transformers: Devastation
Deus Ex: Mankind Divided received an "early 2016" release window for PC, PS4 and Xbox One, while the much-anticipated Kingdom Hearts 3 showcased one of its Disney worlds based on the movie Tangled. Square Enix also announced a new Nier game with an unexpected twist – it's being developed by Platinum Games, the team behind Bayonetta. Platinum, by the way, is also working on a Transformers-based brawler titled Transformers: Devastation, due out on PS3, PS4, Xbox 360, Xbox One and PC later this year.
PC – Whispers of Oblivion, Killer Instinct
This year's show also had a conference dedicated exclusively to PC gaming, and as you would expect, the event went hand in hand with a number of exciting PC game news, hosted by popular e-sports commentator Sean "Day[9]" Plott. Highlights included the announcement of a free prologue campaign to Starcraft 2: Legacy of the Void, titled Whispers of Oblivion. And by free, we mean completely free, regardless of whether or not you own any of the original games. Microsoft head Phil Spencer also briefly came on-stage to confirm the company's commitment to PC gaming and announce a PC version of Killer Instinct, one that will feature cross-play compatibility with Xbox One.
PC – Pillars of Eternity DLC
RPG fans were happy to hear about the announcement of Pillars of Eternity's expansion, The White March – the game will feature an increased level cap, new abilities, new companions and much more.