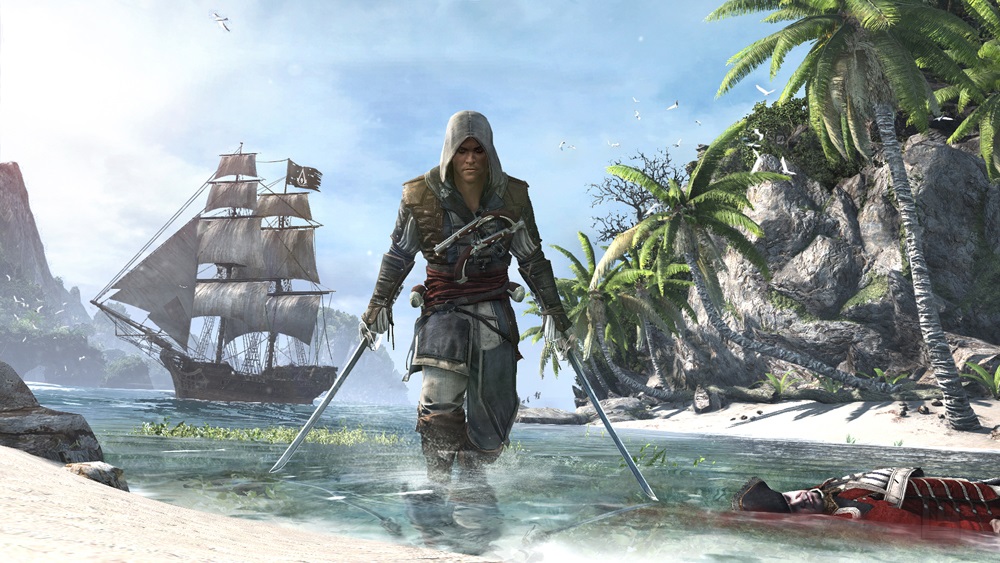 Ubisoft, after chronicling the events of the American Civil War in the third installment of the AC series, is now ready to give us a taste of what it feels like to be a pirate in their latest installment, Assassin's Creed 4: Black Flag. Although veterans of the series will no doubt feel right at home in the new episode, there are nonetheless a number of noteworthy changes to look out for. Let's see what we know of Ubisoft's latest assassin/pirate simulator so far.
Black Flag will take us all the way back to 1715, to the Golden Age of Pirates, rulers of the Caribbean Seas, introducing the daring pirate Edward Kenway – ancestor to present-day Desmon Miles and grandfather to AC3's Connor – as its brand new protagonist. According to the developers, legends of the pirate world will also make a debut in Black Flag, including Blackbeard, Calico Jack and Benjamin Hornigold; as far as the explorable landscapes are concerned, we can expect to venture to the considerably varied – both in architecture and atmosphere – locales of Havana, Kingston and Nassau.
Assassin's Creed IVPlatform: PC, PS3, PS4, XBox360, XBox OneGenre: Action-adventureDeveloper: Ubisoft MontrealPublisher: UbisoftRelease: 10/29/2013
Open deck
In terms of gameplay changes, Ubisoft stressed the openness of Black Flag's world when compared to previous installments. We can wave goodbye to relatively enclosed city-hubs and instantaneous fast-travel options: as Edward, players will gain control of their very own ship, allowing them to sail the open seas of the Bahamas, exploring at least 50 unique locales – settlements, jungles –, discovering their sidequests and hidden treasures. Furthermore, Edward will be able to abandon deck at any given time and cast himself into the sea in order to partake in some underwater exploration, giving him the freedom to discover secrets, underwater caves and ruins of sunken ships for additional loot. According to Ubisoft, they are quite proud of what they had managed to achieve with the open world of Black Flag, claiming it to be the largest and most immersive Assassin's Creed title to date.
As one would expect from a game dealing with pirates, naval battles will inevitable play an important role in Black Flag. The developers went as far as calling Edward's ship, the Jackdaw, "the game's second protagonist": players can – and are encouraged to – upgrade and customize their ship by purchasing new equipment or recruiting additional members to the crew. Upon encountering other ships on the open sea, Edward can utilize his spyglass to gain additional information (crew size; potential weaknesses; amount of treasure it's carrying), and decide to either ignore or engage in naval battle with them. In case we choose the latter, Edward will be able to commandeer the Jackdaw towards the enemy ship and begin its assault, eventually boarding and plundering it with the help of crew mates. Much like in the case of combat on land against regular human enemies, hostile ships will also come in a variety of categories, requiring different strategies for toppling them.
Multi on land
Following the tradition started in Brotherhood, Black Flag will also include multiplayer (excluding, however, naval battles). One new aspect of the game mode comes in the form of the so-called Game Lab feature, which allows players to customize their own matches, implementing various rules and limitations (for example: no melee weapons allowed), thus making Black Flag's multiplayer experience considerably more unique and varied.
Assassin's Creed 4: Black Flag is scheduled for release on the 29th of October on current-gen consoles (November 1 in Europe), followed by a next-gen console/PC release a few weeks later.
Gameplay trailer
More videos